Lani K Thompson Has written several books for the 5 and 10 string Kanteles, On her website you can purchase these either as a physical book and CD or as a Download. Lani also can provide Private Lessons by Skype.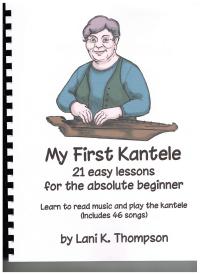 My First Kantele
This book provides a foundation and skills for playing and learning written music at the same time on your Kantele. This is the most recent book by Lani and is highly recommended.

"

Don't know how to read music? No problem! This book, which comes with a CD, will teach you everything you need to know in order to play a five or ten string kantele and read music written for it. Videos and sound files make it easy to learn and practice the accompanying exercises and songs. Quizzes test what you learn and an Answer Key is included so you can check your answers. The second part of the book consists of 46 songs written for 5 and 10 string kanteles. This book is also available as an ebook"
My Kantele is my Teacher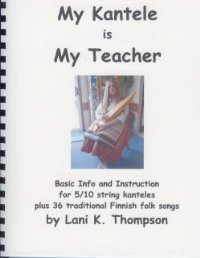 The next book is for people who already read music, a little more advanced but It has a great collection of Finnish tunes, some really great tunes to play.
"
If you can already read music, this book will teach you how to play small kanteles with 5 or 10 strings. Learn different techniques such as how to play a kantele with a bow, pick or chopsticks. Information on caring for your kantele, finger positions, tuning and changing strings is also included. Music includes my arrangements of approximately 36 traditional Finnish folk tunes and songs. This book may be purchased by itself or with a CD to illustrate some of the techniques. Also available as ebook."
Fishbone
The last book Is the one that featured heavily in my Kantele playing guide on youtube, This is the quintessential book for playing the 5 string. In my video I demonstrate how the PDF version of the book works on a laptop with the embedded soundfiles.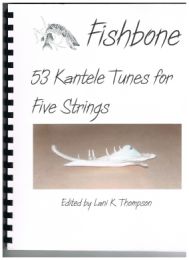 "This book includes original compositions by a number of artists, as well as some Finnish and American folk songs.
All
the tunes can be played by changing only one string from F to F#! The e-book includes song files (in .mp3 format) so you can hear how each kantele part sounds by itself or with other parts."
Complete chords for the Kantele (revised edition)
This contains chord charts and tuning variations for 5 and 10 string Kanteles, a great reference and also has some fantastic original tunes including "in the forest" one of my favourites



"This book contains extensive chord charts (420 charts, total) for all the major and minor keys, including charts for pentatonic tunings in all the keys. In addition, there is information on tuning your kantele, a small glossary of musical terms, and 45 mostly original songs and tunes written and arranged for five and ten strings."




Lastly Here is a book specifically for Children:


The Handle on the Banana

"This book contains 57 songs to enjoy with children. Included are songs to sing around the campfire, familiar childhood favourites and some original music written for young children. Instructions for accompanying games and fingerplays are included. All music can be played on a ten string kantele."
Her email for more info about Skype is
here
(Picture of Lani K Thompson taken in my Cheltenham Workshop in 2004)